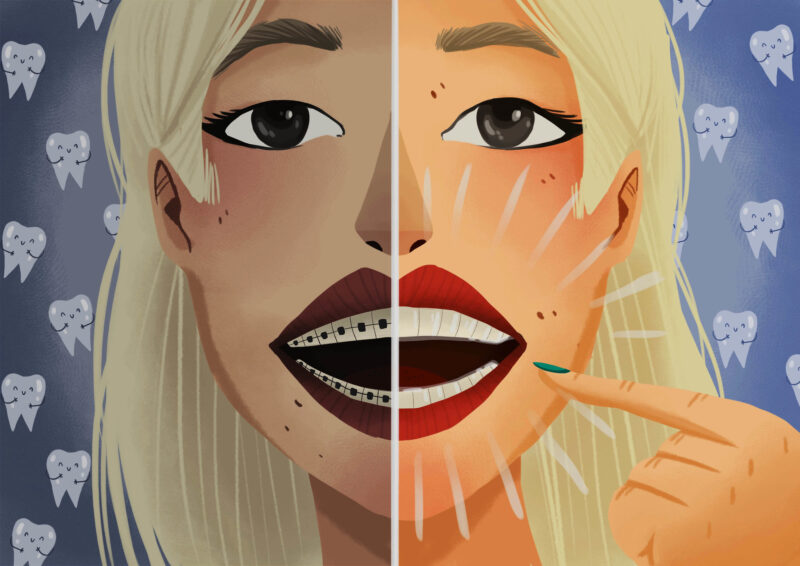 Is Invisalign Better Than Braces?
September 29, 2022 4:24 pm
---
A misaligned smile is more than just a cosmetic issue. Crooked teeth can grind against each other, causing sensitivity and damage, and make it harder to thoroughly brush and floss. Fortunately, there are several orthodontic treatments that can gently shift your teeth and straighten your smile! While braces used to be the go-to option, many patients nowadays are eligible for clear aligner therapy. In this blog post, we explain some of the benefits of Invisalign®
Works quickly
On average, most patients can get a straight smile in 12-18 months with Invisalign. For the fastest results, be sure to wear your aligners for at least 20-22 hours a day and carefully follow your care plan.
Removable
The brackets and wires of braces stay on your teeth for the entire treatment. In contrast, clear aligners are removable! You take them out to clean your teeth, eat, and drink. While braces have diet restrictions, you can eat what you want with Invisalign!
Easy to keep your teeth clean
When you have braces, it can be tricky to brush and floss around all the wires and brackets. Because you take out your Invisalign trays to clean your teeth, maintaining your oral hygiene is much simpler! You can brush and floss your teeth like normal, adding in a few extra brushing and flossing sessions after eating.
Looks discreet
Braces can make a person feel self-conscious about their smile during treatment. But most patients feel confident with Invisalign because the clear plastic is almost invisible! To keep the plastic as clear as possible, always remove your tray when you eat or drink anything other than water. You should also clean your aligners at least twice a day with lukewarm water and a liquid soap to prevent staining.
Invisalign in Hoffman Estates, IL
Have you always wanted a straighter smile? You may be a great candidate for Invisalign! Clear aligner therapy is a comfortable alternative to braces that offers a more convenient treatment for mild to moderate misalignment. Please contact us today with any questions about financing your Invisalign or to schedule a consultation at Caring Smiles Dental!
Braces vs. Invisalign image from Authority Dental under CC 2.0
Categorised in: Cosmetic Dentistry