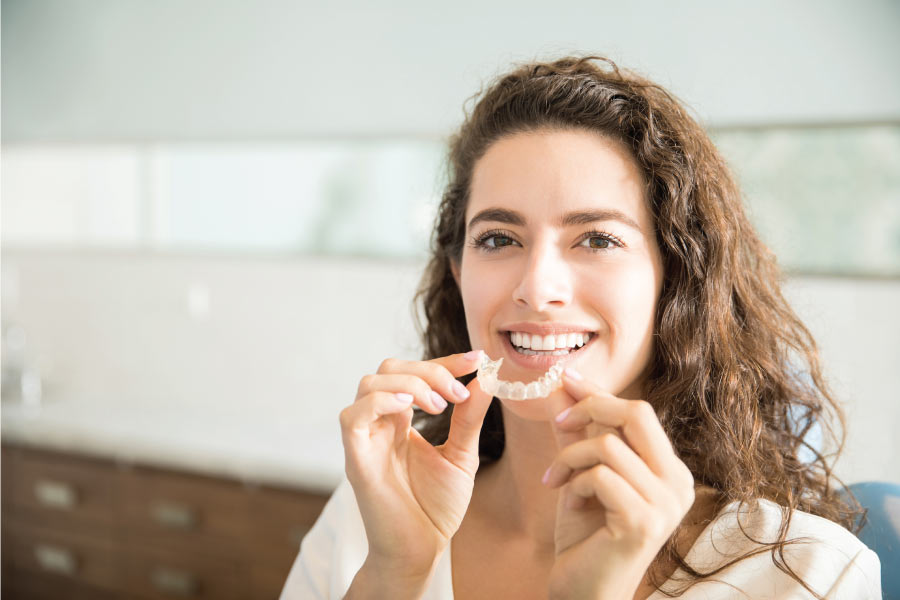 Non-Cosmetic Benefits of Clear Aligner Therapy
June 14, 2023 5:14 pm
---
Clear aligner therapy (like Invisalign) straightens crooked and misaligned teeth! Many people want clear aligners because they're nearly invisible, but did you know there are non-cosmetic benefits, too? Here are the three main ones:
1. It's Easier to Keep Your Teeth Clean with Clear Aligner Therapy
Unlike traditional braces, clear aligners are removable. That means you can take them out to brush and floss! Being able to maintain your normal oral hygiene routine is a huge benefit. With braces, keeping your teeth clean can be challenging, but clear aligners make it much easier to prevent cavities and gum disease.
2. You Don't Have Food Restrictions with Clear Aligner Therapy
When you get traditional braces, there are several foods you need to avoid, such as sticky foods, chewy foods, and crunchy foods. That includes candies and junk food, but many crunchy fruits and vegetables are risky, too. With clear aligner therapy, you remove your trays to eat, so you don't need to cut out healthy foods like raw carrots, whole apples, corn, and pears.
3. Clear Aligner Therapy Can Resolve Teeth Grinding
Teeth grinding (bruxism) can cause jaw pain, headaches, and weakened tooth enamel. Many people with misaligned teeth struggle with bruxism, but clear aligners can help! They act as a cushion between your teeth while correcting your bite. Many people grind their teeth at night, which is why it's so important to wear your Invisalign for the recommended 20-22 hours a day.
Clear Aligner Therapy at Caring Smiles Dental in Hoffman Estates, Illinois
Clear aligner therapy is practically invisible, but the benefits aren't purely cosmetic! You can maintain your regular oral hygiene routine, eat what you want, and resolve teeth grinding. In around 12-18 months (depending on your case), you'll have a straighter, more even smile. Please contact us today with questions or to schedule an appointment with Dr. Patel!
Categorised in: Bruxism, Invisalign, Oral Hygiene